Posts with #mourn tag
I was shocked when last December Princess Leia died - and her mother Debbie Reynolds, too, who I do not really know. I am still sad but her daughter, Billie Lourd, isn't a mourning type. Some days after the double death she was smiling with friends and later had fun and vacation on a beach. Many people in my circles think so that was quite strange, especially if someone lost two close family members in two days. According to some interesting articles, she "deserves" fun after she has lost her mother and grandmother only just couple days earlier. So, if someone lost family members she'll deserve "reward". If she cryed a little, as is proper, it can come after the well-deserved fun?
But there are very stupid fans (for example GUEST on Disqus) who think "mourning" can be "several", not only crying in the room. For example mourning can be FUNNY, entertaining, alcohol vapoured, sex orgia and so long. What Billie Lourd doing is just a """kind of mourning"""! Poor she!
Then why mourning is mourning? Why is it specifying? Why there are strict rules of mourning in many societies?
In those "many kind of mournings" who mourns at all?
And in this case, if she really "mourns" this way, then what would she do if she is NOT in the mourning? If someone mourns by having fun or working, really mourns or just does not want to mourn, does not want to deal with it?
Oh, of course! "She is grieving inside, outside fun". Because Carrie Fisher taught it to her. Debbie Reynolds succumbed to a loss, but her granddaughter fell far from the tree.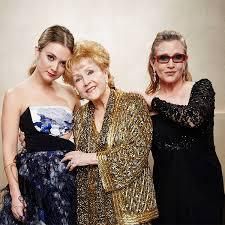 data:image/gif;base64,R0lGODlhAQABAPABAP///wAAACH5BAEKAAAALAAAAAABAAEAAAICRAEAOw==